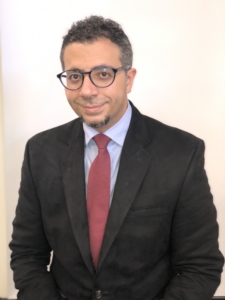 GOURG ATTEYA, MD
Electrophysiology – Cardiology
Dr. Gourg Atteya, who has joined our Advanced Cardiology group in 2022 as a pioneer to our Cardiac Electrophysiology services. Dr. Atteya received his medical education from Cairo University School of Medicine in Egypt and moved to the U.S. in 2011 shortly after completion. He performed clinical and translational research in the field of Cardiology and Cardiac Electrophysiology at the Yale School of Medicine. Being a foreign medical graduate brings its own challenges, but after much perseverance, Dr. Atteya was accepted and completed his Internal Medicine residency at Yale in 2017. In 2020, he completed his training in Cardiovascular diseases from the SUNY Downstate Medical Center in Brooklyn. He then received and finalized his extensive training in the Cardiac Electrophysiology fellowship from Lenox Hill Hospital and North Shore University Hospital in NYC in 2022.
During his Cardiac Electrophysiology years, he was trained on all aspects of cardiac device management including implantation and extraction of various cardiac devices (pacemakers, ICDs, CRT-P, CRT-D, leadless pacemakers and subcutaneous ICDs). He also received extensive training performing simple and complex ablation procedures (SVT, Atrial Fibrillation, Atrial Flutter, PVCs, VT and other arrhythmias).
Training at Lenox Hill Hospital in NYC allowed Dr. Atteya to be exposed to very complex and rare cases. He was very privileged to use the most advanced and available technology to perform ablation procedures (including radio frequency, Cryo ablation, Farapulse catheter and Diamond temperature ablation catheter).
In addition, Dr. Atteya has done extensive cardiology and cardiac electrophysiology research throughout his many years of training from Yale University until Lenox Hill Hospital. His research interests include the diagnosis and treatment of complex arrhythmias and understanding health care disparities. He has multiple publications along with articles and book chapters in the field of cardiac electrophysiology and is genuinely interested in advancing his field of practice.
Dr. Atteya will be taking care of our community at St. Barnabas Medical Center in Livingston, Morristown Medical Center in Morristown and Lenox Hill Hospital in NYC.
Most importantly of all, Dr. Atteya is better known for his rare and warm bed side manner that has sincerely distinguished him from others. As reciprocated by several awards for excellent patient care, he treats each patient as his own family, and is excited to continue to do so.
Dr. Atteya is fluent in English and Arabic. In his spare time, he loves to travel, swim, play soccer and support his local church community.